Volunteers Advocate for our Coasts
In early March, nine Surfrider volunteers from our O'ahu, Maui, and Kaua'i Chapters traveled to Washington, D.C. for Surfrider's annual Coastal Recreation Hill Day event ("Hill Day"). We use this event to lobby our federal Hawaii representatives. This year, we joined with 150 other volunteers and staff from across Surfrider's network to share our priorities for preventing plastic pollution (including derelict fishing gear), improving coastal water quality, and increasing coastal resilience to climate change. We were able to meet directly with Representative Ed Case (District 1/O'ahu) and Representative Jill Tokuda (District 2/rural O'ahu & neighbor islands), as well as staffers with Senator Schatz and Senator Hirono's offices.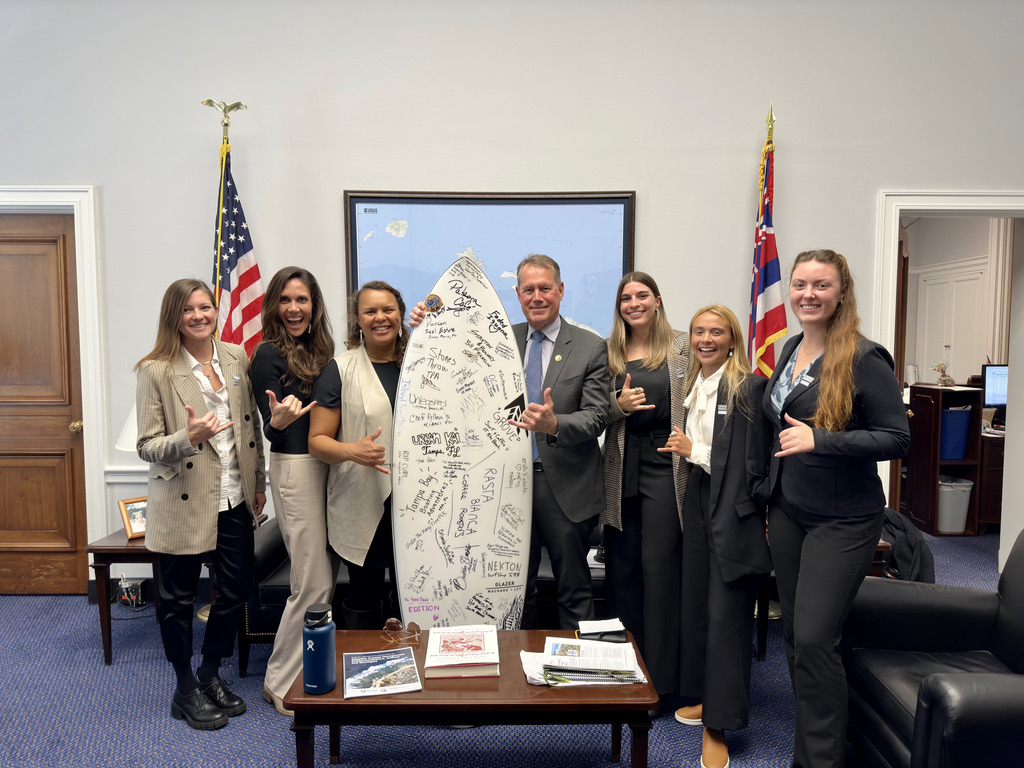 One of our most important reasons for attending Hill Day is to advocate for BEACH Act appropriations. These federal funds are used by coastal states, including the Hawaii Department of Health, to run their coastal water quality monitoring program. Though the appropriations limit for BEACH Act funding is set at $30 million, congress has set funding at $10 million for the last few years. In 2021, this funding was finally increased to $10.15 million. Yet our states need more money to provide consistent and robust water quality data from the beaches where we recreate, surf, swim, and dive. On March 23, a Dear Colleague letter was circulated through the House of Representatives requesting support for $15 million for the BEACH Act. We hope that this year's funding exceeds the $10 million from the previous years.
Our advocacy has also led our federal representatives to better understanding the plastic pollution crisis – particularly derelict fishing gear. We are hoping that they will continue to support federal legislation to prevent plastic pollution, as well as directly address derelict fishing gear.
Mahalo to our 2023 Hawai'i Hill Day Volunteers.
O'ahu Delegation:

Maria Lujan (O'ahu Chapter & UH Manoa)

Mattison Priest (UH Manoa)